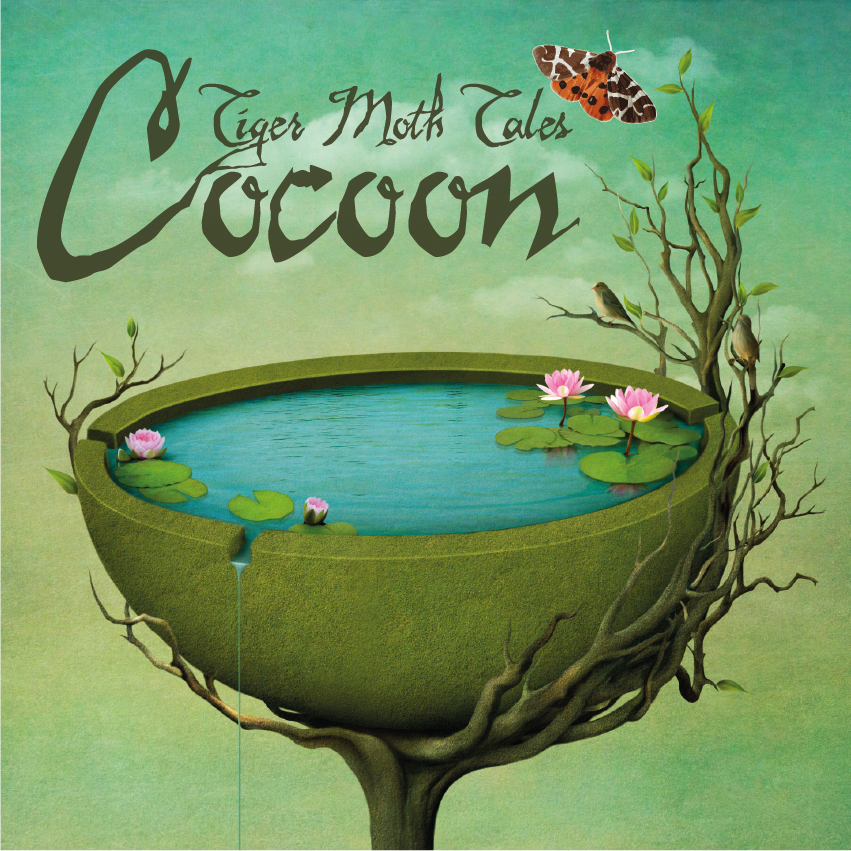 A.J. Giordano, DJ at The Dividing Line
I've just completed my first listen to Tiger Moth Tales debut album Cocoon. Everything started off well enough, with nods to Mr. Morse in abundance much to my delight, so I was enjoying it, but then something unexpected happened. Much as I enjoyed the first half, the second half completely blew me away. They were almost like two different albums.
What's a prog album without an overture? Snippets of some of the best bits yet to come.
The Isle of Witches will certainly appeal to old school proggers with a love for the fantastical storytelling of the 70s, a style embraced by modern bands like Gandalf's Fist. I enjoyed the vocal approach and felt like I was hearing the audio book of Clash of the Titans. Some unique tones in this one. Refreshing.
Tigers in the Butter falls into "At the end of the day" territory for me, with its Spock's-like blueprint. The soundscape intro is a little lengthy, but when it hits that pocket groove with the harmonies, I'm sold.
The instrumental First Lament shouldn't be overlooked, as it works very well on its own merits and adeptly ushers us into the second half. A nice piece. I wouldn't hesitate to play that one on my EIMA shows.
Usually, when artists say "these are the tracks we think you should play," I say, "Yeah, okay," then silently disagree when I hear them. But, not in this case. The Merry Vicar had me grinning for 6 minutes and 40 seconds. So well executed, whimsical and fun. The production on this one felt like it was much warmer. I could almost feel the extra time and care that went into it. And Pete Jones really gets to show off some of his piano chops. Nicely done. I would definitely play that one.
A Visit to Chigwick shines from the get-go. Clearly a tip of the hat to BBT, I thought I was listening to The Underfall Yard at times. Pete's vocal is startlingly good on this one. The prog media will undoubtedly be drooling and shouting its praises in every review.
The closing track is just gorgeous. Lush and epic as Transatlantic, it's the real star of Cocoon, leaving the listener wanting it to go on for as long as it's willing.
I've lauded Pete's vocals before and hearing it in full here only confirms my assertion. Pete Jones is right up there with Gabriel and Longdon, in my opinion. With ample passages reminiscent of Spock's Beard - from The Light to V to Octane - time transporting Genesis moments, a lost BBT track and hints of Frost*, IQ, Tinyfish, Queen, ELO, dare I mention Styx, this album embodies what Experiments in Mass Appeal is all about.
Best of luck to Tiger Moth Tales and Pete, who I think is about to be bombarded with compliments. Glad I was one of the first to hear this album and get mine in before it becomes trendy. Visit Giordano's page on the Dividing Line web site...

Russell Clarke, Progarchy
The Big Big Train Facebook group is a seething hotbed of excellent music tips, so when I saw a post about an album called "Cocoon" by Tiger Moth Tales (aka Nottinghamshire-based musician Peter Jones – read all about him here) I knew it was probably worth spending some time investigating. Read full review here...

Harald Schmidt, babyblaue-seiten.de
'Cocoon' is an album that sounds like a long-cherished dream Peter Jones has fulfilled himself. Already perceivable in his artist's name 'Tiger Moth Tales' Steve Hackett as a source of inspiration with his second solo album Spectral Mornings (Tigermoth) is acoustically evident, too.
Next to Hackett's early release his later works as well as Genesis and Big Big Train and the classical british and Victorian characterized prog in general are shimmering through. Though as a tonal counterbalance really modern influences like Frost* or the late Kaipa are recognisable, too. And so 'Cocoon' appears as a melodic prog album with a special colourfullness, dynamics and versatility. The bandwidth in forms of expression is striking, providing an occasionally cinematic character.
On one hand there are audio drama-like spoken passages, short stories and many different noises which introduce fondly the track theme within the Intros. On the other hand it is drawn on unlimited resources musically: sometimes retro-proggy, sometimes neo-proggy and occasionally almost cheesy lacrymosity and melancholy are carried by brilliant vocals and complex arrangements of eclectic acoustic and electric guitars, organ and different wind instruments. Influences of thundering drums, booming-fat keys and loops are allowed, too and ensure that the overall impression isn't directed backwards but sounded fresh and powerful out of the speakers. In order that this musically adept and profound effort won't come along too intellectual the album is loosened with typically british-weird humourous sketches, so you can sometimes think about discovering a lost opus of the 70s. But thankfully it isn't due to the fact that the sound is properly modern. The way Peter Jones as a solo artist managed it to simulate a complete band is amazing, many one-man-productions mostly suffer from one-dimensionality or tonal weakness.
In this case even the programmed drumming sounds suitable and toes the line. Peter Jones turns out to be a very talented and technically versatile multi-instrumentalist and imaginative story-teller as well. One feels that he as a professional musician - although in a commercial range - is skilled enough to turn his ideas into an adequate and elegant realisation. If one listen to this album in a cohesive way and at a stretch - exactly the way one should do - it unfolds itself to its full extent and avoids listeners' effects of fatigue, simply because it's rich in variety and musically strong enough to create surprising moments again and again. So it's only fair that there are countless amazing keyboard and guitar solos which lead broadly conceived epics to instrumental climaxes. And who knows - maybe the even as a child gone blind Peter Jones will fulfil his dream to let no one less than Steve Hackett play a few guitar solos on his next Tiger Moth Tales album. 'Cocoon' counts - not least because of the very well-made musical connection between the past and the present - definitely as one of the most interesting contemporary discoveries and can be referred as mandatory for all fans of melodic-complex progressive rock. Read full article (in German) here...

David Pearson, Classic Rock Society
I can't remember the last time I could not stop playing a particular song - until I heard this album, that is. I don't know what it is - maybe the evocative childhood memories, maybe the gusts of Wind & Wuthering, maybe the nods and winks to Camel - or maybe a mixture of all - but I have made repeated trips to "A Visit to Chigwick".
Cocoon is the baby of Nottinghamshire-based musician and writer Peter Jones, a remarkable musician with a varied career since the late '90's, including being a 2004 X Factor finalist, but don't hold that against him! Cocoon is a million miles away from Cowell's megalithic music manufacturing factory.
What you have with Cocoon is something akin to the descriptive, inventive and occasionally darkly comedic world of Hackett's "Please Don't Touch" or "Spectral Mornings" (You may already have guessed one ofJones' influences from the band alter ego "Tiger Moth Tales". Add the jollity of Camel's "A Nod and a Wink", the nostalgic reminiscence of Big Big Train, the expansive musical embellishment of Flower Kings, the technical flourish of early It Bites and the expressive vocals of Paul Carrick, and you're getting a whole lot closer. Mostly performed by the outrageously talented chap, and even more astonishing when you realise that Pete lost his sight due to Retinoblastoma when he was only 15 months old
Check out the old You Tube clips of him performing to see how he does it. Then listen again to his fond reflections on the world of Trumptonshire and let it sink in that he is singing about a world he possibly never saw! Whilst not totally the finished article, this is an astonishingly accomplished debut album from a remarkable musician - I can't wait for more Tales from the Tiger Moth. DP. Visit the Classic Rock Society web site here...